Faculty Teachers:
200-Hour & 300-Hour Yoga Teacher Training programs
Karla Brodie
Karla loves to share yoga in a simple, joyful, self renewing way. Her practical and intuitive approach leads students toward a deeper understanding of balanced posture and integrated movement.
Dyana Wells
Dyana introduces students into the core principles that underlie any spiritual enquiry, and takes them on fascinating journeys of discovery inside their minds and bodies. They explore the rich interplay between yoga and science.
Neal Ghoshal
Neal's teaching focuses on exploring and refining natural movement and alignment principles – learning to embody these principles in a way that takes our spiritual practice into our everyday lives.
Vincent Bolletta
Vincent encourages one to be curious about their yoga practice and offers a range of tools to support that enquiry including pranayama, asana, postural re-patterning and hands on enhancement.
Tension and agitation are the enemies of space; they restrict and inhibit. To be free and truly sense space, it simply becomes a matter of introducing ease. Ease is a barometer that guides our movements, our breath and our mind.
Vincent Bolletta
International Guest Teachers
As well as the full curriculum required within the Yoga Alliance certification trainings, we invite and include international guest tutors for specialist workshops. Recent visitors include:
Lisa Petersen
Lisa is a Yoga Teacher, Therapist, Somatic Movement Educator and Body Mind Centering facilitator based in Ireland.
Fuyuko Toyota
Fuyuko is a certified iRest Yoga Nidra® teacher and Hatha Yoga teacher based in Australia.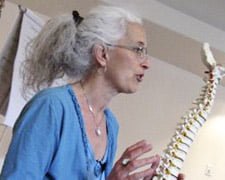 Leila Stuart
Leila,from Canada teaches a three year Yoga Therapy course in Vancouver. Leila will return early in 2016 to offer a workshop on fascia and somatic movement.
The success of Yoga does not lie in the ability to perform postures but in how it positively changes the way we live our life and our relationships.
T.K.V. Desikachar