Workshops and Events with the Contemporary Yoga Teachers
Wise Body Workshops
Monthly Sunday workshops
March 12, April 9, May 7, June 4, July 2
9:30am–4:30pm
With simple Somatic exercises we switch on neuromuscular repatterning programs which can powerfully change the way we move.
Through Discussion and Meditation we explore the qualities of loving kindness, compassion, sympathetic joy and equanimity - and allow them to manifest in our lives.
Investigations into the elements – earth, water, fire, air and space from a Tibetan Buddhist perspective – reveal how our emotions and actions are shaped by the elements. By taking the elements into movement we will discover them to be our allies.
Self nurturing and self acceptance create the space necessary for deep healing to occur.
Your beautiful spirit and kind essence inspire people to become all they can be. Absolutely loved the course! - Catia
Meditation and Mindfulness

Fortnightly Saturday mornings
Mar 11, Mar 25, April 8, April 22, May 6, May 20, June 3, June 17
Hours: 9:30–12:30
Mindfulness for Daily Life, with emphasis on Meditation from a Buddhist perspective.
We use movement, meditation, creative visualisation and discussion to dive deeply into the experience of being alive and fully engaged in our present experience.
Through powerful yet gentle movement exercises from the Tibetan Yoga tradition, we cultivate an awareness which naturally opens our bodies and enriches our minds.
Discussion into core Buddhist principles, and meditation practices gives us a deeper insight into how our mind/body operates. Understanding and seeing clearly enable us to make changes that bring us greater ease and happiness.
Your breadth of knowledge is truly inspiring, but what I remember most is your kindness and support. - Sharon
Musculoskeletal Anatomy for Yoga
Fortnightly Saturday afternoons.
Mar 11, Mar 25, April 8, April 22, May 6, May 20, June 3, June 17
Hours: 1:30pm–4:30pm
Essential training for all students and teachers of yoga.
These workshops enable students and teachers of yoga to increase their practical understanding of the musculoskeletal system in relation to the healthy and dysfunctional movement patterns of yoga. After these workshops you will be able to practice more effectively, kindly and with an informed curiosity about what is happening in your practice.
You will also understand why different kinds of breathing bring different physical and emotional benefits. There will be theory, model-making and exploratory practices to integrate and embody your learning.
I have once again found my love of knowledge. - Tim. You have inspired me to continue to learn. - Conrad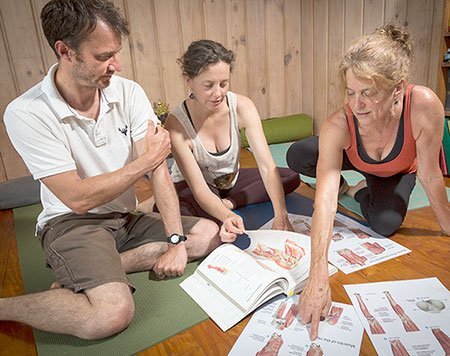 Wisdom of the Moving Body at Mana Retreat Centre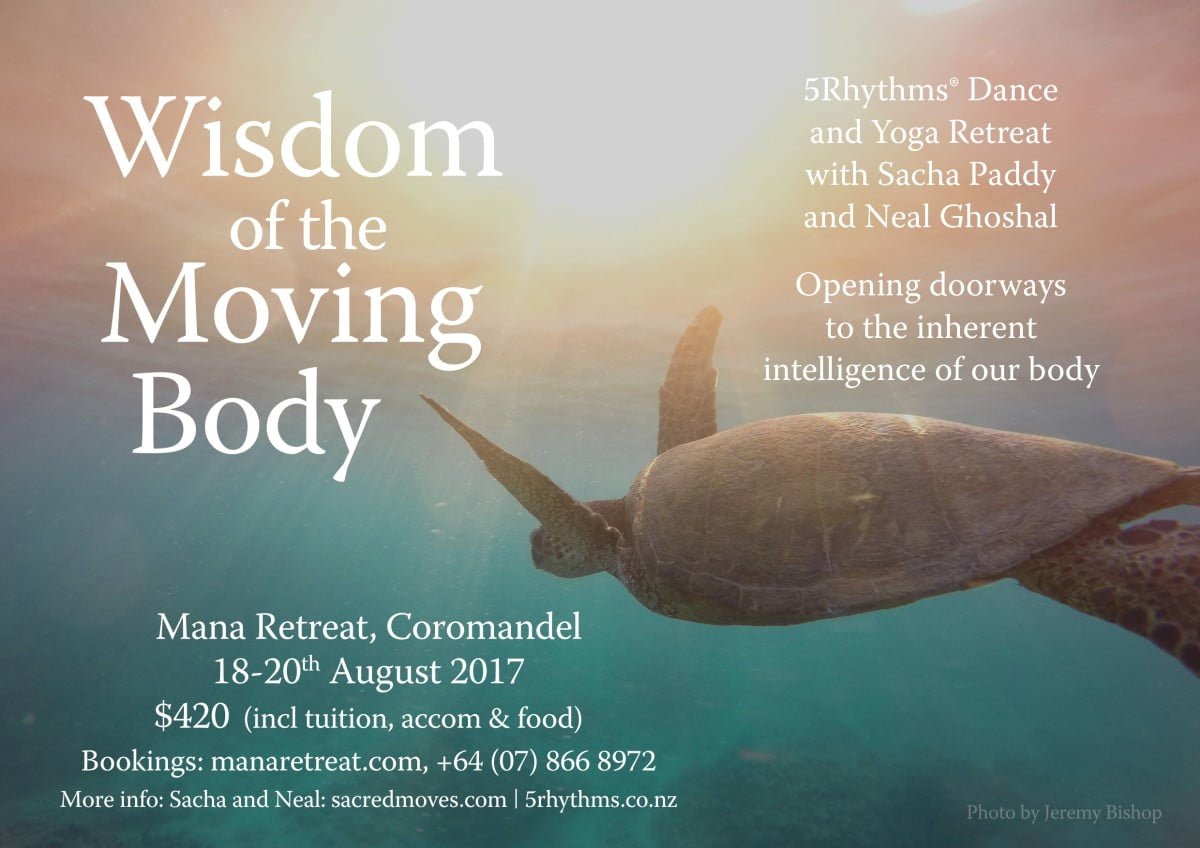 with Neal Ghoshal and Sacha Paddy
18-20th August at beautiful Mana Retreat Centre in Coromandel
$420 Includes meals & accommodation
Our bodies are designed to move and they love to move! Dynamic movement practices such as yoga and 5Rhythms dance involving non-habitual movement, are now known to be especially beneficial for our holistic health.
When we move our body we not only feel physically enlivened, but our moods can lighten and shift, our mind can feel more spacious and we can connect with a sense of our soulful being. The simple act of engaging in conscious movement practices has a profound effect on every aspect of our life and living.
This is the power and wisdom of the moving body.
This weekend, with the guiding lights of 5Rhythms Dance and Yoga, we open doorways to the inherent intelligence of our being and our own transformative potential.
BOOKINGS through Mana Retreat Centre: manaretreat.com | 07 866 8972