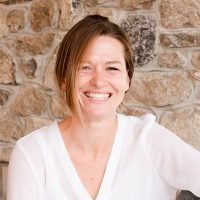 Amy Massey
Ayurveda has been guiding my day to day for more than a decade now, bringing greater balance, nurture and delight – especially with kitchen healing! As a way of healing, Ayurveda has inspired Somama Yoga & Ayurveda's offerings of care. My work with women becoming mothers began shortly after the birth of my son, based on the traditions of Ayurvedic postpartum care and therapeutics of Yoga.

I'd come to yoga some years earlier when, brimming with exuberance, I signed up to a series of (hot) yoga classes. I thought I was just signing up for an exercise class. On the floor in a sea of nausea and a sweat puddle one day, I met an unfamiliar experience of boundless sensation within and all around me. Entirely accidental, that little happening set me on a path of personal practice that led eventually to teaching.

Imbued with qualities of joyfulness and compassion, my classes focus on supporting women's wellness, fertility, pregnancy, and postpartum rejuvenation for Mums, bubs and tots.

In both Yoga and Ayurveda, I've found there exists an embodied invitation to deepen our connection with the world within us and the world around us - and I look forward to sharing more with you on the mat.
Qualifications / Teacher Level
PGDipHSc. BHSc. Dip Ayurveda. Dip Yoga. Cert Kinesiology. Registered Natural Therapies Practitioner.
Please note:
We are proud to profile these teachers who have been through our trainings. However, we take no responsibility for your experience in their classes and workshops. We highly recommend you connect and talk with teachers first before attending their classes.