Learn To Teach Yoga To Children
with Michaela Sangl of Yogi Kids
29-30th June and 12-14th July
Are you passionate about Yoga and mindfulness? Love working with children?
Contemporary Yoga Teacher Training is very excited to announce our latest program - Yoga For Kids Teacher Training, with teacher trainer Michaela Sangl of Yogi Kids.
This comprehensive program will prepare any Yoga Teacher to teach safely, skillfully and creatively, with a huge amount of fun for kids.
Micahela Sangl is one of the most experienced and beloved teachers of Yoga for children in New Zealand (see her bio below).
What this course covers
Learn how to create a safe and fun learning space for children - there will be lots of laughter, play, moving, dancing and more.
The art of storybook Yoga
You will receive numerous class plans, filled with creative ideas.
A space to practice teaching with feedback given by Michaela and other experienced teachers.
You will receive a certificate … (Yoga New Zealand, YA ?)
And much more
Why Yoga for Kids?
Research shows that kids learn best with a multi-sensory approach, using kinaesthetic, visual and aural learning. This makes yoga an ideal learning tool. Yoga for children …
Improves flexibility, strength and body awareness
Enhances self-confidence and positive social interaction
Encourages self-expression and imaginative play
Improves focus, balance, co-ordination spatial awareness
Increases awareness of breathing and deepens the breath
Provides a playful, fun way for children to learn how to relax
When kids are having fun, their brains are switched on for learning!
Yoga For Kids Teacher Training
Schedule Dates and Times
Saturday 29th June
7.30am - 6pm
Sunday 30th June
7.30am - 6pm
Friday 12th July
1-6pm
Saturday 13th July
7.30am - 6pm
Sunday 14th July
7.30am - 12pm
Some people are good at yoga, but not good with kids; some people are good with kids, but not at yoga (like me).

Michaela is great at both! Add to this her wonderful voice and creative thinking and you have a yoga class that is fun, highly imaginative and leaves kids in a really positive and relaxed state. Highly recommended!

Craig Smith (author of The Wonky Donkey)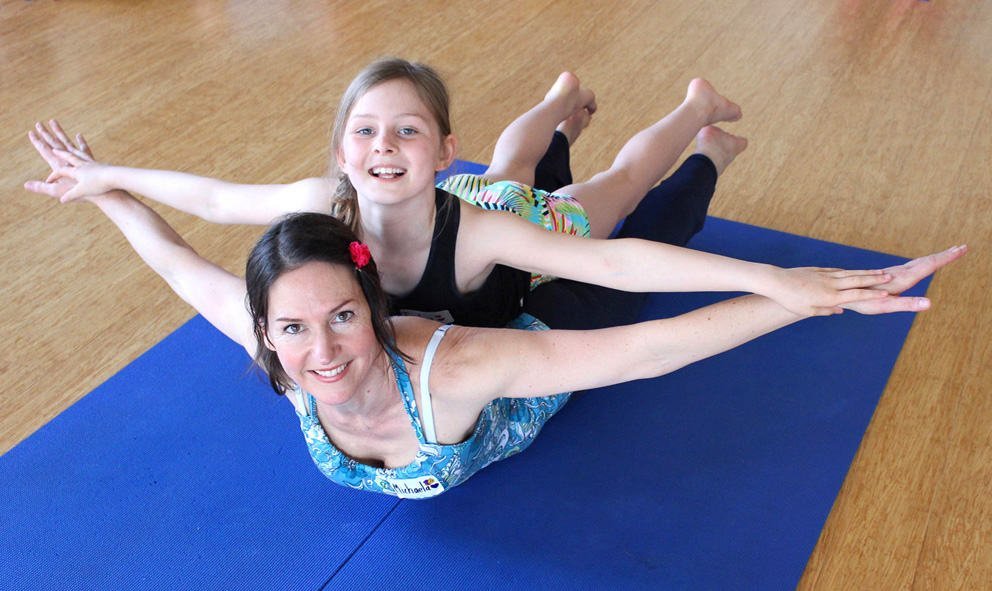 Michaela Sangl and her daughter Isla
Michaela is passionate about creating imaginative, highly beneficial yoga journeys for children and sharing yoga tools with teachers and parents!
After many years of teaching kids yoga, Michaela's primary focus is now sharing her wealth of experience and creative yoga tools with educators, yoga teachers and parents through professional development workshops.
Her mission is to empower as many loving adults as possible to share their own 'yoga magic' with their tamariki and in doing so, help the next generation deal with challenges and navigate life on this magnificent planet!
Michaela is a 95-hour Children's & Teens Yoga Teacher (US Yoga Alliance). a certified Rainbow Kids Yoga teacher and Samadhi Family Yoga instructor.
She completed her 200-hour Yoga Teacher Training, with Contemporary Yoga. Other trainings include a Yin Immersion Teacher Training with Joe Barnett and a Partner and Community Yoga certification with Rainbow Yoga in Australia.
Since 2012, Michaela has taught kids, family and teen yoga in Devonport, Ponsonby, Grey Lynn and Titirangi, at numerous schools and preschools around Auckland and at Yoga festivals and events.
A day in the life of a yoga student
An example of our daily schedule:
7:30-9.00am Asana class with a key focus for the day
9:00-9:30am Breakfast
9:30-11:30am Creative Yoga class plans for children
11:30-1:30pm Teaching principles for kids
1:30-2:30pm Lunch
2:30-4:30pm Relaxation and Mindfulness for children. Teaching practice.
4:30-6:30pm Storybook Yoga principles
Plus regular opportunities for tea and discussion with your teachers and fellow students.
Learn To Teach Yoga To Children
with Michaela Sangl of Yogi Kids
29-30th June and 12-14th July
Price: to be confirmed
Wonderful drawings from children after Yoga with Michaela
Be inspired where you learn
All our programs are currently at our wonderful teacher training venue at The St Heliers Centre, in beautiful St Heliers, one of Auckland's most picturesque seaside suburbs.
With upmarket shops and cafes, a perfect swimming beach and an easy walk to the training venue, it's a haven that's the perfect place to immerse yourself into a Yoga training.
Subscribe to our Mailing List For News, Trainings, Classes and Workshops
PLUS Receive a FREE GIFT:
20 Tips – Learning How To Cue Effectively in Teaching Yoga
No spam! Please read our privacy policy